For years to come, I'm certain to remember the 2008 NBX Day 1 cyclocross race as one of the greatest races I've ever had. 
I left home later than I wanted: getting there at least 90 minutes before my race stars allows me to ride the course before the race immediately before mine starts, then gives me time to register, warm up and get staged with plenty of time to spare. Driving through the center of East Greenwich and loosing time until the 9:30 field went off, I was pulled over for speeding. 
Speeding.
In this car.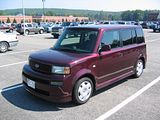 Speeding.... it's kind of funny.
This car is great, but my lawnmower has more power than this car. Not the ride on mower, the push one. Ali's hairdryer is more powerful. So it wasn't the best start to the day. 
I did manage to pre-ride, hustle through registration, and drop wheels at the pit before staging. The course was a combination of the two different days from last year. The start was in the lower parking lot and headed towards the east side of the course. Off the pavement and onto the beach, where the sand seemed harder to ride this year. Running up a sandy hill, you'd remount and start riding a series of trails back towards the old carousel building, around which they had a set of barriers. There was a power section here that went past the pit and out onto the main road leading away from the beach area and into a field. A sweeping turn out there and we were right back to the woods. A long rooty path led to the second beach section, then a final run back through the woods before crossing the road and heading towards the pit for two final 180s and out on to the finish straight.
The course was dry, frozen and fast. I lined up third row thanks to no points and early registration. The start was pretty mellow, and I moved up a bit on the extended paved section so as to not handicap myself too badly early on. 
Half way through the first lap there were 7 guys in a lead pack, then a small group of 3 or four  stragglers, and a second group of 7 after that. I was just off the back of this second group of 7, struggling to get back on to take advantage of the draft on the fast road sections. Mashing the pedals, I could see the guys at the back of the group just 20 feet ahead of me coasting... but still pulling away. That has got to be one of the worst feelings in all of sport.  
Half way through lap two Bailey made another one of his signature announcements... "Myette you are loooosing this raaaace!!!" He was right: this was not going to be a good day for me. It was F.A.S.T. today and I didn't have the punch needed for racing at these speeds. I was over my head, which is a dangerous place to be, and it was maybe 11 minutes into a 45 minute race. 
Being in that second group of 7, rather than off the back of it, would make such a huge difference. I had to try and get there.
I lowered my head and drove it across the back side of the field, hoping to out-brake the bunch and make up some spots in the turns where I wasn't spending energy. Marc Boudreau crashed and I got through clean while Stephan Marcoux and Todd Cassan, who were just behind me,  got hung up. I knew that I had one last chance to reach that group and try and catch a ride around this course before things blew to smithereens. I laid down a finish line sprint to close the gap because I knew that this very well could be the end of the race for me. I got within 5 bike lengths before taking the final left turn towards the beach, and as my thoughts drifted towards the beach run ahead where I would surely make contact, I slid out in a loose turn and lost the group for good. In an instant, Gaudreau et al were on me, then past me. I chased again, now trying to catch them for 20th and frustrated that I had spent a lot of energy for nothing. I held the gap through the end of the second lap, but this was not going well.  
Into the beginning of lap three I noticed Mike Rowell was missing just as I spotted his wife Cathy. "He flatted" she told me. Damn, I could use a ride back up to these guys right about now, and this was usually where Mike would be catching me. Out on the road towards the field for the third time the 2 Canadiens and Cassan were pulling away. Bailey again reminded me of my predicament: "you gotta catch those guys!" to which  I responded "but they're going so damn fast!" 
I decided not to try and catch them with one effort like the lap before, but to ride on "the edge" for an extended time and try and bring them back slowly. The group of 7 ahead of them was stretching their lead, so even if I caught these three I was looking at 18th at best. There was no hurry to make it happen all at once. 
But tired riding is tired riding, and that's when the danger goes way up, especially on a course like Warwick, with so many technical parts. Lots of off camber, roots, mulch, sand, and transitions onto and off pavement. 
Going past the pit with just over three to go, I took a fast left hand turn that transitioned up onto a paved path that was about 3" higher than the dirt. The pavement cut across the course at an angle, and with the turn the transition between surfaces was tricky for a rested rider and a disaster waiting to happen for a tired ol' guy like me.
The front wheel disappeared, and my left hand smacked into the tarmac at the same time that my left shin and hip started to slide across the road. My right hand stayed on the bars, and as my left arm was pulled out from under me, my chest hit the ground and the skidding continued. I think the rear wheel hit that lip on the pavement, because the bike kicked up in the air, still attached to me at the feet, and its weight and momentum carried me further forward in a nipples-down slide. My back arched and as the bike hung over my head it was driving my face towards the ground.  I distinctly recall straining my face up and to the right to keep my teeth and chin intact. I came to rest in that position, and it took me a second to uncoil and get the bike off my back and on the ground
Here's the post race photos...
People in the pit who had given a collective and loud "OH!" when I crashed were now yelling "rider down!" as other went by. Quitting seemed like a good idea. Standing at the side of the course I was sure my wrist was broken, but past experience in cycling and hockey have taught me that once you stop, the pain doesn't get any better. It was nearly the last race of the season anyway, if I needed a cast another 25 minutes of riding wouldn't kill me as long as I could hold the bars. My left leg looked like I had just come out of skin graft surgery and my chest was stinging with the burn of (mercifully mild) road rash. I got back on the bike and waited for the shock of the initial pain to subside or get worse while I rolled around through the start finish line and watched the majority of the field go by.
No fewer than 10 guys asked to be sure I was ok. I'd list their names, but for fear of missing anyone, I won't. It doesn't matter who they were anyway: this sport and my field in particular is filled with great people, and I was truly moved by the concern everyone expressed for me. After about 3 minutes of crashing/getting up/riding slowly the pain wasn't getting any worse so I started to ride a bit. By the end of the parking lot I decided that it was time to start racing again so I got back on it, and passed a few of the guys who had just seen me favoring my hand. One yelled "yeah Matt! go get em kid!" 
Working back up through the field I got similar comments from others like "He's back!" and "Alright Matty! go man!" and even "I thought you were dead!" Ken Scott was in the pits yelling "You're my hero!!! I can't believe you're up and racing!!!" 
Over the next two laps I caught and passed probably 15-20 guys including 
GeWilli,
 and a guy riding a sweet
Speedvagen
. 
Jerry_in_VT
 who was riding pretty well up ahead and would be tough to catch but I made that my goal going into the bell lap. I got past him sometime before the paved road out towards the field. I was going pretty hard, yelling at Jeff Ferraro to get his a$$ in gear because I was coming to get him next (he was way to far ahead for me to catch, but I was gaining on him). Jerry began to mock me from behind: apparently he had stuck on my tail, and he was mumbling something about being cold. I'm glad he managed to stay with me, he's really got some good speed, I'm not sure why he doesn't place higher. 
He went to the front, and led through the last turns before the return to the woods when it occurred to me that he probably wanted to beat me and here there was only half a lap to go. I moved back in front of him and rode hard to the beach, had a good run and stomped on it towards the pit and that treacherous turn. I made it through clean to roll over in 44th. Jerry slid out on one of the last turns to finish 46th.
Coming to the starting area I was greeted by Brant Hornberger who somehow knew I was hurt, had collected my jacket and was guiding it over my shoulders moments after I stopped. Cathy and Mike Rowell reminded me to elevate my hand and offered to fetch some ibuprofin. Several others offered water, help with my gloves, or extra clothing. John Meerse took my bike and escorted me to medical, then sat there for a good 10 minutes while they checked me out. I'm sure he had better things to do but he sat there until they gave me the all clear.  
Then this guy I had met briefly in Portland last year approached and asked how I was. It was Dan Werle from Tennessee, and he offered to take my bike back to my car while I carried my pit wheels in one hand an held an ice pack on the other. Dan was the guy on the Speedvagen and had introduced himself to me in the grid at last year at PDX, leaning over a few racers to say "
You're Matt, right? I'm Dan. I like your race reports
" (third paragraph) just before the whistle. He was in Warwick after contacting me this summer about which NE races he should do. I figured a guy from Tennessee might like the chance to race in some snow so I suggested Warwick over the better attended Gloucester and Northampton races which are good but had no chance of the white stuff. 
After about an hour, I was feeling better and managed to enjoy a few beers with my extended cyclocross family.
I only know these people from cyclocross, and it is usually just a few words pre-race, a pat on the back during a race, and a few laughs afterwards before we head to different corners of New England. I rarely if ever socialize with any of them outside of weekends from September to December. All of these people who would otherwise be strangers were there first with concern, then encouragement, and finally tons of help precisely when I needed each of those things that day. 
To say I was touched by everyone's kindness would be a huge understatement. It is the reason why I'll remember NBX day 1 2008 as one of the best races ever. 
Thank you all!