The most important race of the season.
Simple as that.
Ya see, there is this series of 7 races here in NE called the VERGE series, and they are by far the biggest races on the calendar. The courses are all excellent and with basically everyone coming out for each race it is a good chance to see how you really stack up against the competition.
If I haven't explained it before, I'll do so now. The start of a cyclocross race is the most important part. Why? The courses twist and turn, and if you are at the front of a field of 50+ guys riding their bicycles when you reach that first tight spot, you're going to go through that section much faster than the guys in the back, who tend to pile up on each other like a bunch of drunk fraternity pledges. See
here
and especially
here
.
So being at the front of a race as it is about to start is important... but how do you get to the front? Different races have different methods of "staging" racers, but the VERGE is well known by all, though that doesn't mean most popular. For the first race of the season, they call up the top 10 point getters from the season before. The remaining line up by order of registration. After that first race, they call up racers by the current year's points total. VERGE points are given out 15 deep in my field, and I've never gotten a single one in three years of racing the Elite master's 35+ field.
So I targeted this first race as my big chance to grab some points... a single point even, to get on that points list. That would give me a preferred starting spot for race #2, and thus a better chance at getting more points and so on and so on. This would also take some of the pressure off the (admittedly fun) "race before the race" of registering for these events as soon as they are posted on line (remember that the racers without points are staged by order of registration).
I had a decent night's sleep but was rather nervous the morning before the race. I was hoping for rain overnight to make the course sloppy and slow the front of the race down a bit, there are some fast guys in my field this year, including the 2004 US road champion. Yeah... racing against me. I took up bike racing in 2004 and this guy has been a pro since 1984 or something.
If I were to have a bad result, I certainly could not blame it on a lack of preparedness. Check out the camp we had going... Full mechanical services, a tent, stadium horns and even cold beer. The envy of the infield I'm sure. Leaving that tailgate open did kill our battery both days, but it was a small price to pay. Thanks for the truck
John
!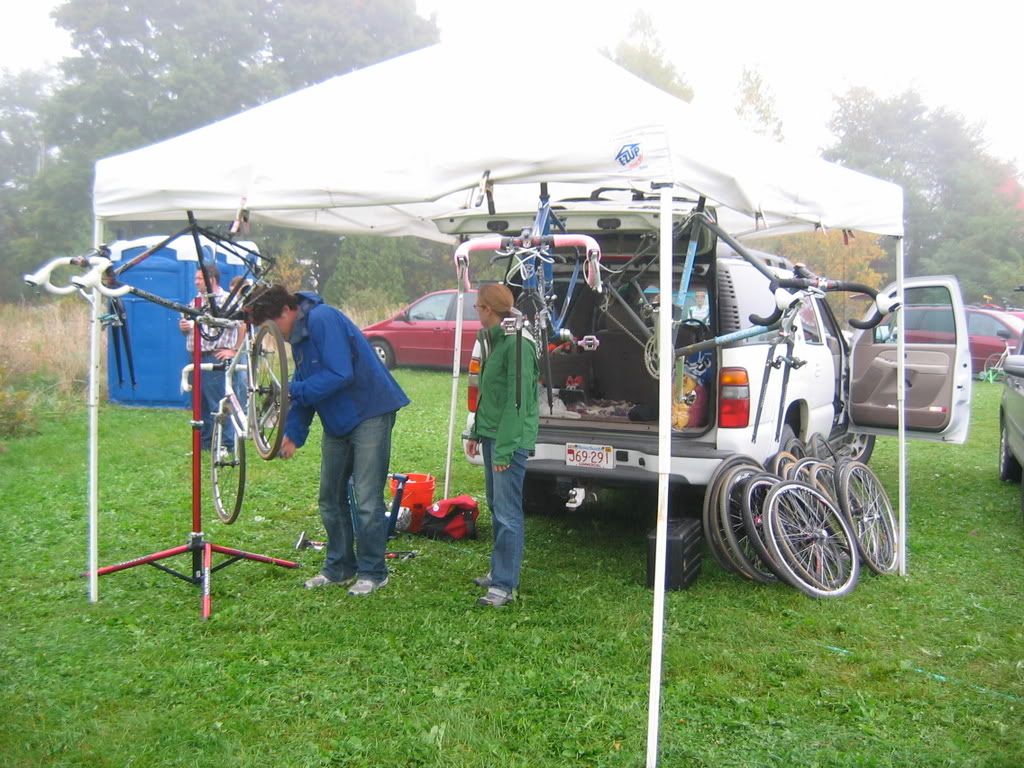 After getting the full pro bike prep from super mechanic and killer B bad boy Kenny I was off to inspect the course. It was hard and dry and almost entirely grass. It started with a long climb topped of with a nice set of stairs. A fast swoopy slightly down hill section led into a short power climb, then a series of switchback descents. Half way down the hill we turned and went up the jumps that made up a BMX course, then we descended back to the lower field where the start area was. The course continued on into a second field, where a tight corkscrew section emptied onto another swoopy slightly downhill run and a second short power climb. One final set of bends and some high speed barriers and we were back to the finish.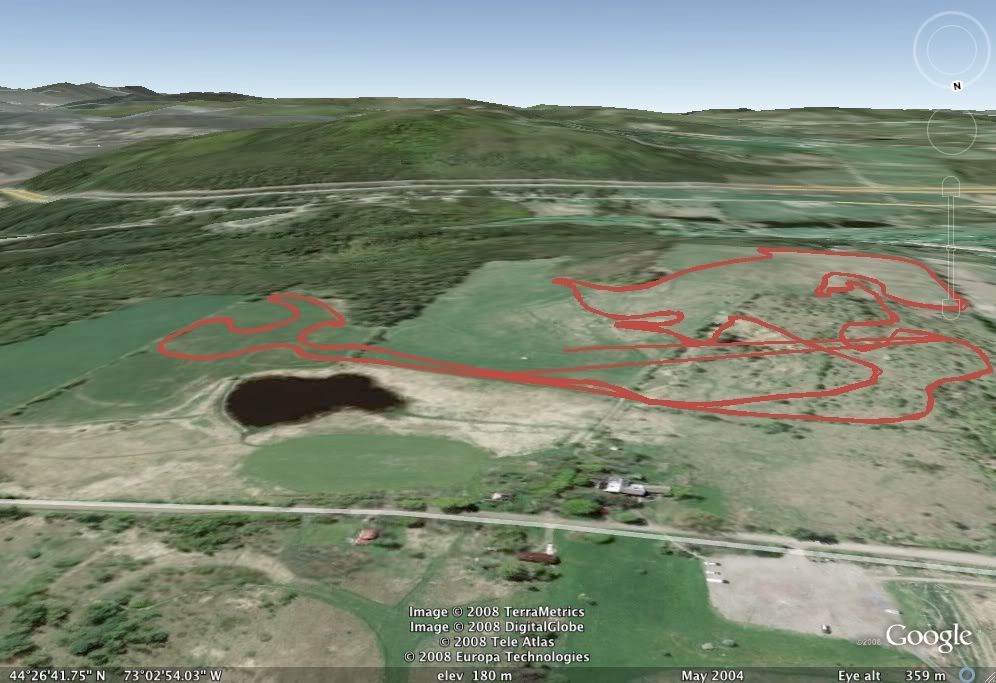 I had a third row start and didn't try for the holeshot at all, settling into the mid 20s up the first hill. There wasn't anything on this course that would really clog things up, the climb was selective enough I guess, so the field sort of stretched out into a single file line without many breaks. I traded places back and forth a few times with a few riders, and rode much of the first lap with all around good guy Brant Hornberger.
I was getting position information along with some encouragement from the crew I had travelled with as well as the general
tifosi
. Half way into lap 2 I was 23rd, 15 seconds out of 15th place. By the end of lap 2 that was down to 10 seconds. I was chasing Coleman O'Connor and John Mosher with Brant, Bill Shattuck and John Meerse (I think). We picked up Mosher, Alan Starrett and Aaron Millett from behind to form a group of riders from 16 to 23. I was at the caboose of this pain train as
Colin
reminded me half way through lap 3 that I needed to get through this group to have a shot at 15th position which was still about 10 seconds away. Easier said than done.
Unable to improve my position in the group for the next half a lap, I decided to try and rest where I could and use some power to break this train up on the two shorter climbs and see if I could make the time up to O'Connor in one short burst. Thankfully with 2 to go the boys didn't drill it up the long first climb, and while sitting at the back I was able tos soft pedal the first long rest section a bit. I hit the short climb hard and went right to the front of the group with Brant and Starrett in tow. I think we lost Millett and a few others at that point and stayed as 6 through the rest of that lap. O' Connor was still well up the road. Up the hill after the bell and that is where Brant started to break down, He had put in a good deal of work over the previous lap and a half and I was sad to see him fall off. His strategy was to push the pace and see what damage he could inflict, but he was 4 minutes of effort short.
I rested again after the long climb and again went to the front on the first power climb, causing a split where Starrett and I had a 20 foot gap. We rode well together to maintain that gap through the descent and into the second field, but never got any closer to O'Connor. I was trying to line up my sprint and keep an eye on Shattuck who made late run to come close to catching my wheel, but the speeds were too fast for any late changes in position amongst the three of us.
I was 17th, my best VERGE finish by far in the toughest VERGE field I had even been a part of. Two years ago I got lapped by this field. So it was a good day.
But O'Connor finished 16 seconds ahead of me which seems like nothing but may as well be a lifetime. His 15th was the final point position so the result was a bit bitter sweet. No points for you (me)!
Kenny's bike broke 1/2 way through lap one and Menard was suffering like a dog from new job induced lack of training but we all had a good time.
We took 19 wheels to VT with us. That is 6.33333 wheels per racer.