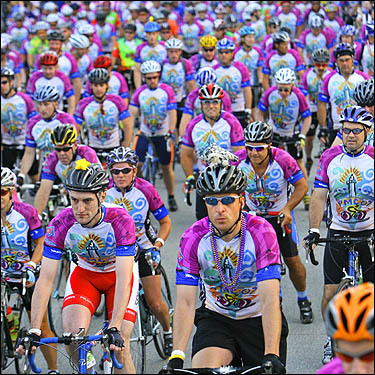 Buy a house? Get a
Zank
? Treat youself to something nice no doubt.
Let's hope that the folks at Dana Farber use the expected $30 million dollars that they will get on November 8 from the PMC on more important things. Treating patients, caring for their families, and of course, continuing the search for a cure.
It has been 11 months since my Aunt Judy passed away, 10.5 months since we learned that my mother in law was diagnosed, 10 months since I decided to ride the PMC, 4 months since my mother in law passed away, and 3 months since the ride itself. Talk about highs and lows, ups and downs...
The range of emotions has been wild. Judy was so sick for so long, we had some time to prepare for her passing and when it came, we knew she was in a better place than where she was this time last year. We know she's partying it up on heaven's version of Highland beach, dancing around to some mid 90's alternative rock playing on a tinny portable radio, smashing pumpkins or blind melon. Gramma Duffy sways gently to the music. That knowledge gives me comfort.
Days after Judy's funeral, Marcia and Jack stopped in to give us the news. It was surreal. She was the energizer bunny, not with overflowing enthusiasm or bounce of the walls energy, but in her never ending presence, the center around which the Haggis universe orbited. With the news, none of that seemed to change.
Signing up for the PMC was tough for me, I struggled with the challenge of the minimum fundraising for a long time, but ultimately realized that the network of friends and family that I've made was a strong one, and with faith in that network the decision was easier. "None of this money is for me" I had to tell myself time and again, a thought that helped ease the guilt of asking people I love for help despite knowing that they all have bills to pay and other charities looking for precious resources. The euphoria of clicking that "submit" button is difficult to accurately recount. If I turned out to be a complete failure in family and work, at least I will have done this to help someone out. At least I had made one correct decision.
As the ride approached, the relatively minor ailments Marcia suffered from suddenly turned very bad and she was in the hospital. A week later, she was gone. I struggle with Marcia's passing more than anything, she stepped out of this life in the peak of her golden years in good health save the last 6 months. Very surreal.
Then there was the ride itself... August 4&5 2007. Loaded up with the experiences that brought me to Sturbridge, the anticipation was building and the emotions were again all over the place. You all know that I ride all the time and know lots of people in this sport. But here I was in the pre-dawn in Sturbridge with 5,000 other cyclists. I knew one of them, and knew of perhaps two others but never had met them. Every one of those 5,000 riders had an experience or story like mine, some more heartbreaking, some more benign, but every story enough to make those 5,000 people click that submit button and commit themselves to the challenge of raising money for cancer research. Other than a lot of "down time," the ride weekend was great. It was amazing to see how that in light of all that was going on, with all the great stories and survivors and athletes and landmarks and traditions, it was the volunteers that made this event.
I was going take a year off in 2008 and do the event again in 2009, giving my sponsors a break. But the money isn't for me, and if I have to pony up the entire minimum fundraising amount, I'm doing it again. Hopefully, the final check will be $33 million.